Your Move, Our Care!
Considering the current shipping crisis, you must be wondering how you could relocate to another country and save money at the same time.
While we have different ways of shipping your goods internationally, some may seem to be obvious while it is actually not. For example: shipping only a few boxes by sea while you can just have it shipped by air. As a leading moving company in Bangkok, rest assured that our aim is to provide you with consistent and reliable moving services through transparent turnkey services, hence enabling you to relocate at affordable costs.
Our experienced consultant will guide you through the most cost-effective options to relocate you.
In this article, we will explain the different ways to ship your goods internationally and which means of transport applies to your situation.
1. SHIPMENT BY AIR
First thing to know is that shipping by air is the most expensive means of transport used to send goods overseas. Unless the shipment needs to arrive quickly, shipping by air should be your last resort. If shipping by air is impossible to avoid or if you simply don't want to wait months for something to be shipped by sea, then shipping by air is the right choice.
However, note that there is more than one way to ship by air: Courier & Air Shipment/Freight.

Courier Shipment.
You can consider courier as an ordinary parcel delivery, similar to it, courier shipping works best with small volume, usually under 1 Cubic Meters (CBM) or simply a few boxes. Companies like DHL, TNT are examples of companies who specialize in courier services. But a major drawback is that courier shipment is the most expensive compared to an air shipment. For this option, you will most likely have to worry about other costs besides the ones for shipping your boxes.
At USP Relocations, we do not have our own courier services. But, as one of the best moving companies in Thailand, we have special rates with DHL, and we can offer the same service at more affordable rates. At the end, you will still be using DHL, but with more service provided on our end.
The reason is that, our quote is inclusive of inspection of your volume, supply of high quality packing materials, packing services, creation of labels & packing list, and the cost for transportation. While we handle most of these services, DHL will only handle the transportation and delivery to your address. No unpacking services and removal of debris will be performed.
We have an entire article dedicated to courier shipment, please feel free to take a look at it:
Air Shipment / Freight.
If you have a much larger volume, and if you have a limited time frame to send your goods then you would mostly end up going for the Air Freight option as it is ideal for volumes above 1 CBM.
As mentioned above, with the courier, the services provided are only up to the delivery at your doorstep.
But for the Air Freight, we would operate the same as we do for sea shipment. Your goods will be sent using a freight forwarder. Once we pack and load your goods into the planes, the freight forwarder will then send it to the airport at destination. Our partner at destination would then be in charge of receiving it, delivering it to your address and providing services such as unpacking of boxes, removal of debris etc.
Shipments by Air: Pros & Cons
Pros:
Global Presence/Global Reach
Fast Delivery
Tracking System
Reliability
Cons:
Cost
Weather Dependent
Size and Weight Limitation
Restrictions
---
Pros: Global Presence / Global Reach.
The most significant benefit of this type of shipment is its worldwide reach. You have complete freedom over where you send your belongings, as opposed to trucks or ships. Obviously both land and maritime transportation have their limits, properly said, trucks can't drive on water nor can ships sail on land. However that doesn't mean the plane will land right in front of your doorsteps to deliver your boxes (haha). Like ships, when arriving at port, a truck would be needed to perform the linehaul to the specific address of destination. The major difference would be in the timeline for arrival, shipments by air would always be faster than sea shipments.
Pros: Fast Delivery.
Shipments by air would be your best choice if you need your belongings as early as possible. You can expect your boxes to reach their destination within a few days. The air shipment would allow you to receive your belongings within a good timeframe, also giving you enough time to settle and worry less about your belongings. If it was a sea shipment, you would have to wait a minimum of 30 days, depending on your destination.
Pros: Tracking System
If you want to get a feeling of safety or control, air shipment would be a great option as you can track at any time your shipment, especially with the courier option.
Pros: Reliability
Shipments by air are more reliable than any other mode of transportation currently available. According to data, air freight accounted for less than 15% of late arrivals, and only 2% of scheduled flights were canceled. When all of this is taken into account, you would most likely receive your package on time. When compared to ocean freight, this is a significant advantage because exact loading and unloading times in ports are difficult to predict, and shipment dates vary.
Cons: Cost
Because shipping by air is fast, it is also expensive. If you want your items delivered within a few days, you would pay a lot more. Even if the distance is the same, air freight is more expensive than any other mode of transportation. This is due to the fact that land and sea freight companies use volume calculations, whereas air freight companies use weight calculations. The price is also determined by where you want your items delivered.
Cons: Weather dependent
Unfortunately, air freight is heavily reliant on Mother Nature. While bad weather can cause problems for land and sea freight, it is a much bigger problem for air freight due to the complexities of aerodynamics, visibility, and navigation. Although only a small percentage of flights are canceled each year, it would be naive to ignore the potential impact inclement weather can have on a company's air freight efforts.
Cons: Size and Weight Limitations
The size and weight restrictions are the next disadvantage of air freight transportation. Planes, as you may know, are smaller than ships and cannot carry as much weight. As a result, certain items cannot be transported by air. For example, the world's largest airplane can lift 250 tonnes, while a massive ship can carry over 190,000 tonnes.
Cons: Restrictions
Unfortunately, not all goods can be transported and shipped, some items, such as nail polish, hair sprays, and perfumes, are categorized as dangerous commodities and hence are not allowed to be shipped internationally.
If you are not sure whether some of your belongings can be relocated or not via air, please feel free to get in touch with us, here.
2. SEA SHIPMENT
While sea shipments do take quite longer than shipments by air, they are the most cost effective and the most chosen form of transportation by clients for International relocations in Thailand and overseas. Similar to air shipment, sea shipments have different options to ship your belongings.
Less Than a Container-Load (LCL) shipments.
When a single shipper's goods do not completely fill an entire container, LCL is used. When this happens, in order to fill an entire container, space in the container is split between shippers.
LCL is usually characterized by a liftvan (a wooden crate) that is built to fit the size of your goods and to secure them in the container throughout the transit. If they are not in a liftvan, they would be on a pallet and wrapped.
For your information, once your goods are packed and loaded onto a pallet or into a liftvan, the volume increases by 20% and the charges will be based on the gross (crated) volume.
In that case, the shipper's ideal NET volume would be in between 1.00 CBM to 8.00 CBM. That still makes it a cheaper option for sea shipment, as long as the volume stays low.
Depending on the route and destination, the ocean freight may be more costly by LCL than FCL (Full Container-Load) because the latter always come at a flat rate, as opposed to LCL where the ocean freight is calculated by the cubic meter. But keep in mind that the total price for your relocation is often lower via LCL, as long as it does not go beyond 8.00 CBM.
Full Container-Load (FCL) shipments via 20ft, 40ft, 40ft HC.
FCL is a shipment type where your household goods would occupy the full size of a container.
You do not need to fill the container entirely but the ocean freight will still be charged on the basis of a full container, depending on its size.
For a FCL, there are three common sizes for containers:
20ft Container
40ft Container
40ft HC (High Cube) Container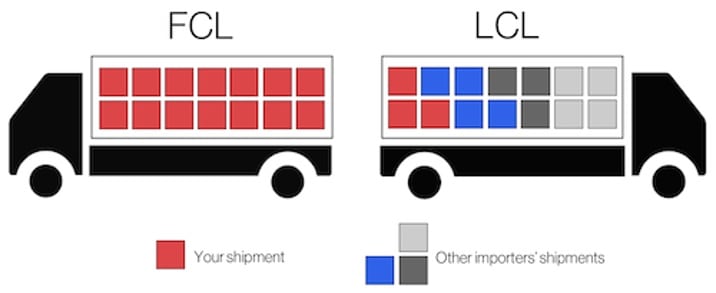 Usually, this type of shipment would be for a relocation of a full household.
Groupage shipments.
By definition, groupage is the consolidation or grouping of shipments from several clients into a single container going to the same area or region. For example, we happen to have multiple shipments moving to Europe, and what we do to lower the costs for our clients is to co-load those shipments into a single 20ft or 40 ft container.
For this type of shipment, we pick up your goods and keep them in our warehouse (storage free of charge) until we collect other clients' shipments to fill one container. Once filled up, the container will be sealed and shipped directly to the port of entry, in this case: Amsterdam. Upon arrival, goods are cleared through customs individually, and delivered to each residence.
There is often a confusion between groupage shipments and LCL shipments. While the space in the container is shared, it is indeed a common characteristic between both options but they are totally different.
Groupage shipment is more cost effective than LCL because the cost of ocean freight and other major costs are spread proportionately among the clients.
We don't use liftvan or pallet for this option, only the NET volume, which means a lower chargeable volume already.
However, the major drawback would be the timing. The container is only dispatched when the container is full. The waiting time before sending the container would be as much as 2 months.
To get more details on this type of shipment, you can read our full article dedicated to groupage, here:
Groupage Shipment – The best way to save money on your international move.
---
As you may not understand all of the above, it is completely normal. That is why you can keep us in front of your mind or at least in your top 3 moving companies in Thailand to guide you through the process.
If you are planning any type of move imminently or in the future, whether it be a relocation overseas or a relocation to Thailand, our experienced moving service in Bangkok is more than ready to meet your requirements. Contact us now for an initial consultation with one of our expert removalists in Bangkok.
---