It is without a doubt that you can be very excited to move in a new country, into your new home but the moving process can be really exhausting, especially if you have to do it yourself. From thinking about which items should you bring or leave, to thinking whether it can be relocated or not and there comes the packing, you would have to pack every single one of your items and make an inventory list of all your belongings. In simple words, relocating is a lot of work!
In this article, you will learn at least 5 benefits of hiring a moving company.
As one of the best moving companies in Bangkok , you can put your mind at ease with this useful article.
1 PEACE OF MIND
Moving or just planning a relocation can be an overwhelming and stressful experience. Professional
movers understand the best ways to handle your belongings to keep them safe and protected. Knowing that your belongings are in safe hands will help to ease your mind.
When you're in a reputable moving company like USP Relocations, you can be assured that high
standards of quality and customer service are expected and delivered. We are committed to making your move experience as stress-free as possible; after all, it is our job! #YourMoveOurCare
In the event of moving from Thailand to Europe , we would immediately contact you to arrange a survey, whether it be physical or virtual, the purpose is to kick off the moving process by assessing your volume. Thereafter, we would prepare a door-to-door quotation before arranging a date for packing and loading into a container for export.
2 RELIABLE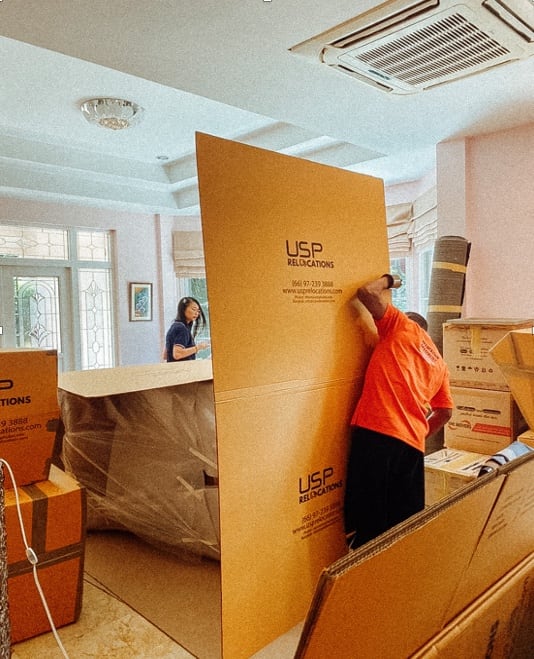 If you plan a relocation overseas from Bangkok, and rather than bothering your friends and/or your family, using a professional moving service in Bangkok would be the most reliable option. In our case, you don't need to live in Bangkok to hire the services of a moving company that is based within the city. Whether you are in Bangkok, Chiang Mai, Phuket, Koh Samui, or any other cities in Thailand, you can hire our services because we stand as your trusted international moving company in Thailand.
You probably have a few pieces of furniture, a few items that you value a lot, and most likely home and office equipment essential in your daily activities; hence you do not want to have them damaged or even destroyed during the relocation process. If you do not wish your equipment and other belongings to get destroyed or damaged, hiring a moving company is the right choice.
At USP Relocations, we have over 15 years of experience in terms of knowledge and practice. Our professional packers undergo rigorous training to learn the best packing and moving techniques so that they can keep your belongings safe. Be it electronic or piece of furniture, they know how to move any equipment with ease and protection.
3 YOU CAN BE INSURED
One important information you should note beforehand is that packing your belongings by yourself (also called Packed By Owner – PBO) won't give you the eligibility to be insured. In order to protect your goods and benefit from transit insurance, you should hire a moving company that would provide the packing services, namely preparation, wrapping, and packing of your household goods.
There are many reasons why you can't be insured when packing yourself.
It includes for example:

● improper packing
● overloaded
● too much weight for the type of box used
● heavy items packed on top of lightweight objects.
● The actual contents and their conditions have not been assessed by a moving company to check
the norms and if it fit the regulations

That being said, that gives you another reason to use a moving company. At USP Relocations, we offer
two types of insurance : Premium Lump Sum and Detailed Valuation, both charged at 3.50% with a
minimum declaration of USD 3,000.00.
Premium Lump Sum – This is the easiest and provides the most coverage.
Detailed Valuation – Ideal for low volume as it requires you to list out your whole shipment and their
replacement values.
4 TIME AND MONEY SAVING
Moving without assistance can be a lengthy and time-consuming process that adds a ton of time onto your schedule, along with unnecessary stress, frustration. Besides having a busy agenda, you would most likely have a lot of expenses to care about. Moving is expensive and involves numerous costs, including truck rental fees, gas fees, packing materials (boxes, tapes, bubble wrap, etc.), labor costs, and freight costs. If you add up all these costs, they can become quite expensive.
At USP Relocations, we save you time and money, at least on what we have control on. Hiring us for example, would eliminate most of these costs. We provide the trucks, the packers and all the necessary materials, so you don't have to worry about that. With our professional packers, we have the experience and the manpower to get the job done well and quickly. We come prepared with top-notch and brand new packing materials, so you don't have to spend hours trying to find boxes or figure out how to move heavy pieces of furniture from point A to B. This means that you can relax and take it easy while we do all the work.
Another great example to help you save money is our groupage option. You only pay for the packing services and the place you occupy within the container. Find more details on this article, here.
5 ALLOWS YOU TO FOCUS ON OTHER IMPORTANT THINGS
There are a million and one things to think about when moving. You presumably have a new job or
school to start, a new area to learn and be familiar with, as well as a variety of other responsibilities along the way. Hiring a moving company will enable you to focus on other important things, such as your career, your family, and your new residence.