There are numerous reasons why Thailand is the most popular Asia Pacific destination for expats to move to and live in.
A tropical climate, endless beaches, bustling cities, friendly people, cheap cost of living and laid-back approach to life are among the many factors which make the country a favorite for expats and retirees.
That said, an exotic holiday in Thailand for a couple weeks is much different from permanently moving your life to a new and unfamiliar culture and country.
If you are considering the move and starting a new life in the Kingdom, we at USP Relocations (Thailand) have provided some of the pros and cons of living in Thailand as well as some general facts and tips for living the good life.
Expat Thailand Experience
Whether you are moving here as part of your job or you plan to retire, there are some aspects that may intrigue you more than others. It all depends on your needs and expectations.
Thailand is an ancient country with an often wild and vibrant past.
To better understand Thailand now, you need to understand what has gone on before and how the country's history has influenced the present.
Thailand facts and figures
Thailand is a large country that sits on the Indo-China peninsula between the Andaman Sea and Gulf of Thailand.
The Kingdom of Thailand – known in the past as Siam (like the cats) borders Myanmar, Laos, Cambodia, and Malaysia.
With a population of roughly 79 million, Thailand sits around the 20th most populated country in the world.
The capital and largest city is Bangkok, which is an important air travel hub for the region. Bangkok and the surrounding areas have a population of more than 14 million. Other important cities around the city includes Nonthaburi and Samut Prakan.
Politics
The Thai government likes to think of the country as a constitutional monarchy and a parliamentary democracy.
That said, the country has seen coups and military rule in recent years.
For the most part, the government is stable.
Religion
Buddhism is the most popular religion of Thai people, followed by a small number of Muslims and even fewer Christians. Thais will show religious tolerance to all faiths as the country in non-denominational.
Language
Thai is the principal language, although thousands of Thais speak many of dialects outside of urban areas. Learning English is almost required at school and popular at universities, but few Thais are fluent speakers, especially outside of major cities
Climate
Because Thailand is such a large country, the climate can change between regions.
Typically, the best weather for expats is between November and April, when temperatures average between 29C and 34C.
The other months can be very wet – with November the worst.
Bangkok – For the most part, Bangkok in normally hot and humid with moderate pollution.
Phuket – Also hot and humid for most the year, but generally cleaner air from the oceans.
Chiangmai – The largest city in the north can see cooler temperatures but will see pollution at certain parts of the year from farmers as they burn their crops off. Head up to the highest mountain points and you had better bring a coat. On the mountain tops during Thailand's winter, you can expect temperatures as low even 4 degrees Celsius.
Currency
The currency of Thailand is the Thai Baht.
Coins: 1, 2, 5, and 10 Baht
Paper bills: 20, 50,100 and 1,000 Baht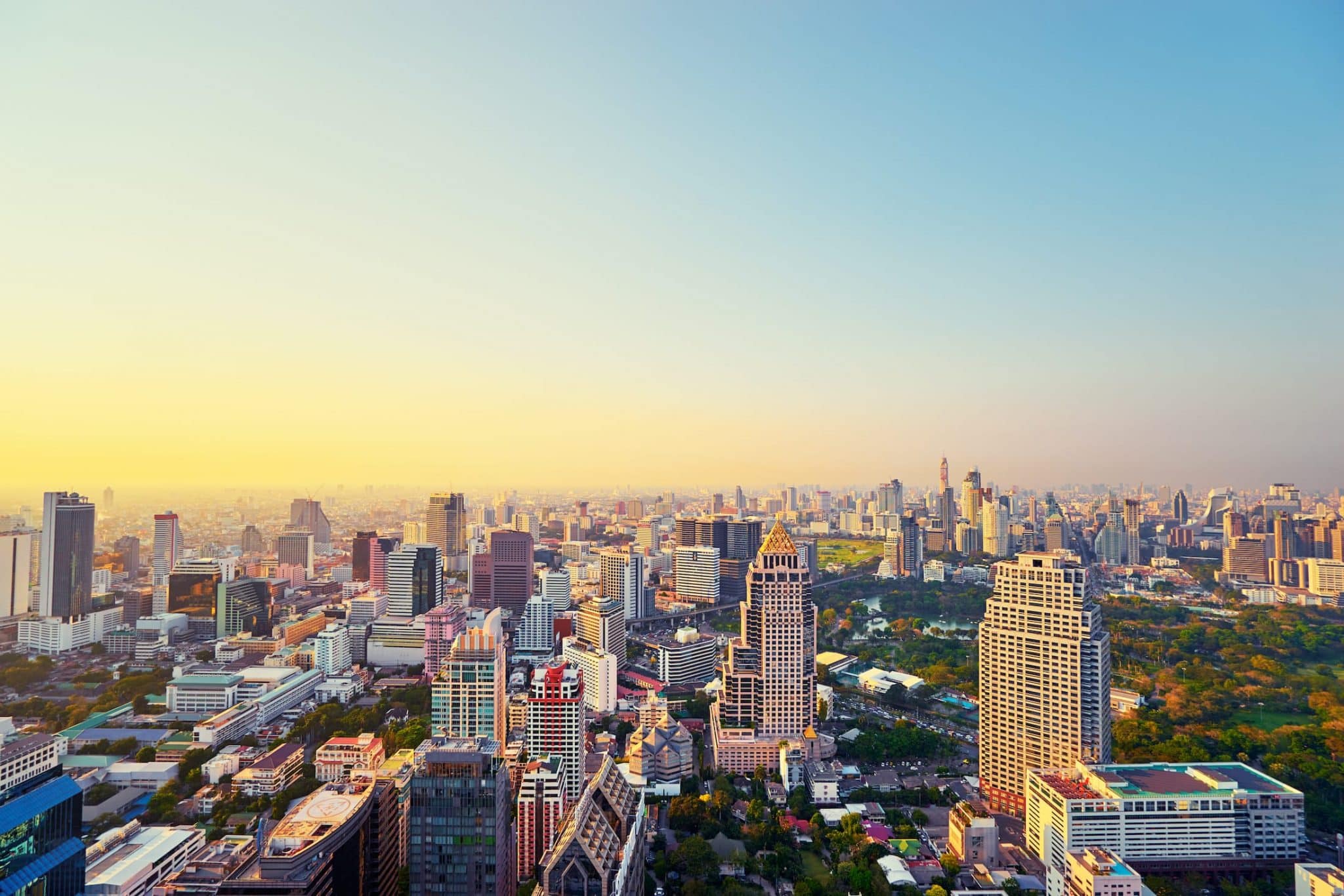 Where Expats Live in Thailand
The choice is endless for retirees, but anyone moving for work mostly settle to live in Bangkok or one of the other large cities such as Phuket or Chiangmai. Time after time, the beautiful city of Chiang Mai tops polls of the best place to live in Thailand. Each of the three provinces has its pros and cons for living.
Jobs and Salaries
The working day in Thailand is much longer than the shift many expats put in at home. Working 50 hours or more a week is common.
Experienced corporate executives should expect to earn between 40,000 baht and 120,000 baht a month – equivalent to between £1,000 and £3,000.
Companies look for top talent in accounting, finance, IT, and human resources.
The average after tax salary for workers across the board is 20,000 baht a month (£506).
Working in Thailand
Non-immigrant visas are essential for expats planning to work or run a business in Thailand – and for volunteer workers.
Apply for the visa before moving to Thailand through an embassy or consulate. In many cases, employers and voluntary organizations handle the application.
Do not forget expats need a work permit for taking up any voluntary or paid post.
Living in Thailand
Thailand has a complicated immigration process that seems to change regularly.
Do not fall for the temptation to overstay on a non-immigrant or tourist visa as the penalties are harsh.
They may include arrest and a stay in a detention center before deportation – all at your own cost.
If deported, the authorities could ban you from returning to Thailand for up to 10 years.
Cost of Living in Thailand
The inexpensive lifestyle is one of the main attractions for expats of all ages who find that the British pound or US dollar in their pocket goes so much farther in Bangkok or in a Thai resort than back home.
Eating out is cheap – with a couple paying around £17 for a three-course meal.
A local beer costs £1.75 and a cappuccino £1.50.
Food is fresh, plentiful and the cost is much lower than in the UK.
The same goes for rent and utilities.
A three-bedroom city center apartment attracts a rent of around £930 a month, falling to £500 in the suburbs.
The price of a basic pack of utilities, including energy, water, rubbish removal and heating is £65 a month. Fast internet will set an expat back £18 a month.
Healthcare in Thailand
Expats with a non-immigrant or retirement visa must show they have valid private health insurance covering the length of their stay – which is typically 12 months.
The policy should cover up to 40,000 baht (£1,000) for outpatient treatment and 400,000 baht (£10,000) for inpatient costs.
Expats can take out Thai or international cover, providing the international policies have the same terms as a Thai policy.
Special arrangements are available for expats who cannot take out private medical insurance due to age or pre-existing conditions.
Schooling and Further Education
First class education is a priority for families moving to Thailand. Expats have the choice of sending children to a public school or opting for private schooling.
Thailand has 80 public and 70 private universities and a magnitude of International Schools
Tuition and fees vary but expect to pay 30,000 baht (£800) to 60,000 baht (£1,500) for a masters at a public university or about 75 baht (£2) to 4,000 baht (£100) a credit hour at a private institution.
Add accommodation, living costs and other expenses for the full cost.
Driving in Thailand
Driving in Thailand should not present a problem for expats in Major cities. The roads are usually in decent shape and signs are mostly in English as well as Thai.
That said, traffic laws are not enforced here as much when compared to countries like the U.K. and the United States.
Traffic can be overwhelming at times and like many other South east Asian countries, there are many motorbikes on the road weaving in and out of traffic.
There is a sense of what some people call here "organized chaos" when it comes to driving conditions here.
Customs and Traditions in Thailand
Moving to a new country always presents language and cultural challenges for expats and relocating to Thailand is no different.
Although the people are friendly, some customs and laws are strict, and expats can cause offence by ignoring them even if they are unaware of expected proper behavior.
Social media postings
Posting images on social media of people drinking alcohol or wearing inappropriate clothing can trigger a fine or even a jail term for the person uploading the images and the people in them. This is especially true when it comes to the Royal Family. Its best not to post any opinions or information about the royal family online or anywhere else for that matter.
Smoking
Taking more than 200 cigarettes into Thailand is illegal and checked by customs on arrival in the country. Breaking the law will see the cigarettes seized along with a fine of 10 times their value.
The government bans smoking on many popular beaches, including Koh Samui, Pattaya and in Phuket, Prachuap Khiri Khan, Chon Buri and Songkhla provinces. Smokers face a 10,000 baht fine (£250).
Vapes and vape refills are still illegal in Thailand but can be found and purchased at your own risk
Same-sex relationships
The Thai authorities tolerate LHBT rights, but do not recognize same-sex marriages in law, even if an official ceremony took place in another country.
Summary
Thailand is a county of contrasts from the fabulous religious shrines of Chiang Mai in the north to pristine white sand tropical beaches stretching for miles on the Andaman coast and Gulf of Thailand.
Thailand welcomes tourists and expats, has low crime, a cheap cost of living and glorious sunshine for much of the year.
If you are thinking about moving to Thailand to work or retire, please contact us at USP Relocations (Thailand) and we can help you make the decision and move you here stress free, all at an affordable cost.